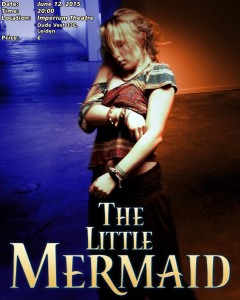 NO WORDS; JUST FEELING. This play explores the dark sides of the story of the Little Mermaid, eruptive sexuality, lust for power, subtle but ruining violence. It alters moods and ways of expression – it is at the same time extremely serious and self-mocking. The original story gets a surprising twist, as if seen through a distorting mirror.
The original tale by Hans Christian Andersen is only the starting point that serves to develop a story for more mature audience. There are no words used in this play – it is composed entirely of striking visuality – mime, dance and different kinds of movement supported by an extensive use of video, sound and music. It allows to explore the old motives in a new and refreshing way.
The story is as simple as that: the little mermaid falls in love with a prince whom she sees sailing across the oceans. He doesn't see her; he only hears her enchanting voice. Desperately she asks an evil witch to turn her into a human so that she could earn the love of her prince. The spells has a terrifying price – her voice. Once she becomes human, she reaches out for the prince. But the evil witch wouldn't allow for the love to flourish – she tries to seduce the prince; and she succeeds. The mermaid, in pain and agony, throws herself back to the sea and becomes sea foam.