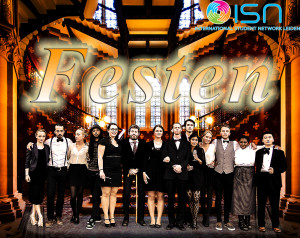 This adaptation of Festen stays close to the original idea of the Dogme flimmakers and puts the narrative at the heart of the production. Helge, the patriarch of the family, is turning sixty. His children have returned home to celebrate. His eldest son, the surviving twin, will raise the first toast. He has prepared a speech. The celebration begins. This seemingly common scenario is turned on the head as the unfolding revelations create an atmosphere of tension, anxiety and tragic. The story puts us out of the comfort zone because it precisely illustrates how we use social ritual to protect ourselves from the most uncomfortable truths.
DIRECTED BY: Julian Rossbroich & Thanos Papnastasiou
CAST: Erik Kamaletdinov, David Kuhling Romero, Miriam Bach, Kang Li, Helene Ganoote, Jessica de Ruiter, Dennis de Gruijter, Clara Gustafsson, Leonie Cloos, Jacopo Griggio, Marco di Sciullo, Srividya Ganapathy, Vanessa Abeyawardena & Jason Scannell.
CLUB RUNNER: Marlous Scholten
POSTER DESIGN & PROMOTION: Clara Gustafsson
LIGHT TECHNICIAN: Dimitris Semos
MAKE-UP & HAIR: Helene Ganoote, Li-Ling Ahtime & Eleni Christidou
FILMED BY: Vin Mercelina
CAMERA ASSISTANT: Marlous Scholten