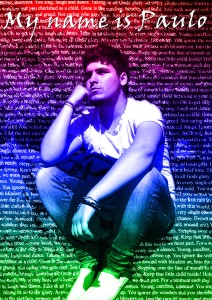 MY NAME IS PAULO is a short film that I directed in 2014 that made a  2015 premiere. The short film tells the story of a young man living in The Hague who recounts the events of his past that lead him to his present and influenced his future.
The short film is a low-budget picture that was made with a handful of people. Even with the shortage of everything, we were determined to make the short film come to life. The film took less than a week to film and went a month in post-production phase.
Since having its premiere, the short film is on its way to even a bigger audience by playing at arthouse theatres and being promoted through online marketing.
The story behind this film was written by the lead actor Alexandrus Santos that got the inspiration from his own life experiences. He felt that telling his story to the world would make him feel better about himself and to help him connect with others.
The film stars Alexandre Santos, Aixa Terrero & Erik Meijer and is directed by Vin Mercelina