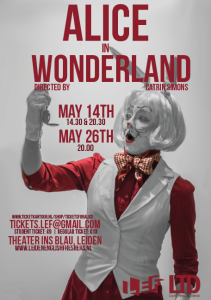 Alice in Wonderland was theatre production produced by the Leiden English Freshers (LEF). It is adapted from Lewis Carroll's Alice's Adventures in Wonderland and Alice Through The Looking Glass.
It is impossible to imagine a world where Lewis Carroll hadn't written about Alice's beautifully insane journey to Wonderland. Her adventures are legendary and now she returns to the stage once again. On a golden afternoon, young Alice follows a White Rabbit, who disappears down a nearby rabbit hole. Quickly following the White Rabbit, she tumbles into the burrow – and enters the merry, topsyturvy world of Wonderland! Memorable songs, dances and whimsical escapades highlight Alice's journey. Drinking tea with the Mad Hatter and March during which she has to solve riddles, playing croquet with the Queen of Hearts and nearly getting her head chopped off are some of the adventures of 'Alice in Wonderland'. "Oh, you can't help that," said the Cat: "we're all mad here."
You can find out more about the team behind this theatre production by clicking on the following link: LEF Theatre.