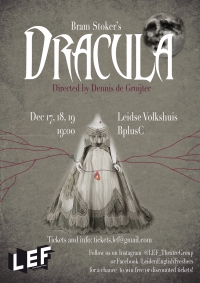 England, 1897.
The young solicitor Jonathan Harker is sent to Transylvania to sell the ruins of Carfax Abby, in London, to the nobleman Count Dracula. Harker discovers his host is an undead fiend, a vampire, who plans to find fresh blood in England.
Leaving Harker with his vampire brides at his castle, Dracula travels by ship to England, where he starts preying upon Lucy and Mina Westenra. Lucy is betrothed to Arthur Seward, head of Bedlam Asylum, and Mina is the fiancée of Harker. The lunatic Renfield is Dracula's slave, and assists him in his feasts of blood.
As Lucy slowly descends into vampirism, Seward contacts his old mentor, Abraham van Helsing. As the Westenra household slowly falls apart, Van Helsing leads Mina, Seward, Harker, brave servant Florrie, on a crusade against the dark powers of Dracula. What will happen to poor Lucy? And will the powers of light triumph over the cursed blood of Dracula?